Classic Pommes Anna - Simple French Gratin Potato Cake
French Tart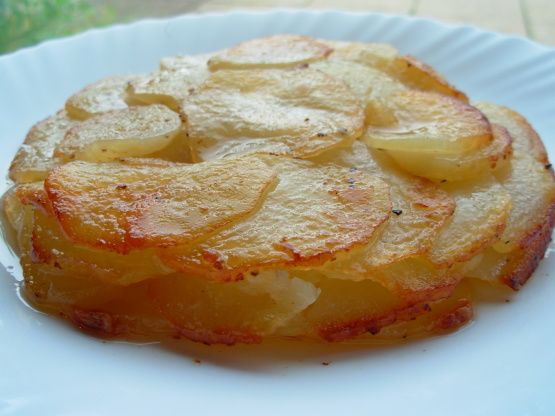 In the recipe for "Potatoes Anna", I have always been unsure who "Anna" was. I now have the answer.......Browsing through Julia Child's Mastering the Art of French Cooking, Vol. 2; I found this historical note about Pommes Anna: "It was created during the era of Napoleon III and named, as were many culinary triumphs in those days, after one of the grandes cocottes of the period. Whether it was an Anna Deslions, an Anna Judic, or simply Anna Untel, she has also immortalized the special double baking dish itself, la cocotte a pommes Anna, which is still made and which you can still buy at a fancy price". Sounds like a mandatory piece of kitchenware for all dedicated chefs and cooks to me!! This simple recipe is all in the preparation and presentation, and the use of very, very thinly sliced potatoes, that's the key to success. Since the dish is inverted, it is important that the first layer of potatoes be attractively arranged. Select perfect slices, and overlap them carefully. It is best cooked in a copper or cast iron omelette pan. If you don't have an "omelette pan" which is ovenproof, use a deep pie plate. Keep in mind the final shape makes the presentation. A watercress or parsley garnish adds colour. Serve warm and cut into wedges, like a cake or quiche.

Top Review by xtine
Chef #642310 - not everyone in the Recipezaar community lives in North America, and because of this Recipezaar provides a handy measurement converter: http://www.recipezaar.com/library/calc.zsp which you can use to convert liquid, weight, temperature, and length measurements. French Tart states, in her recipe, that the oven should be pre-heated to 200 degrees C ("C" means Celcius). If you go to the measurement converter page you can use Recipezaar's tool to easily convert Celcius to Fahrenheit, and you will see that 200 degrees Celcius is equivalent to 392 degrees Fahrenheit, which you could then round up to 400, since I'm assuming your oven temperatures aren't calibrated to that fine a degree. Some ovens do not use either Celcius or Fahrenheit to measure temperature, but instead use the "gas #" measurement, which is why she provided that information as well.
Pre-heat the oven to 200°C/gas 6.
Put the potato slices in a colander and rinse under running water to get rid of the starch. Place on a cloth in a single layer and pat dry.
Generously grease the base of an ovenproof pan or baking dish with melted butter.
Arrange the potato slices in the pan in overlapping circles , brushing butter over each layer and seasoning as you go.
Cover with greaseproof paper or a lid. Bake in the oven for 45minutes or up to 1 hour. Test with a skewer to see if the potatoes are done.
Cooks Notes:.
Cook this in a cast-iron, heavy-bottomed, stubby-handled frying pan that goes in the oven. Traditionally it should be lidded - mine isn't, so I use greaseproof paper.
Historical Note:.
Mrs. Landemare's original recipe is:.
Potatoes. Fresh butter.
Peel some potatoes and cut into very thin rounds the size of a florin. Wash in salted water and dry very well in a cloth. Well butter an omelette pan. Place a layer of potatoes on the bottom. Cover with oiled [melted] butter, pepper and salt. Repeat these layers until the pan is full and cook in a medium [350°F] over until brown [40-60 min.] Remove from the oven, turn out and cut into slices or serve whole in a dish.