Classic New York Cheesecake
Suzi y.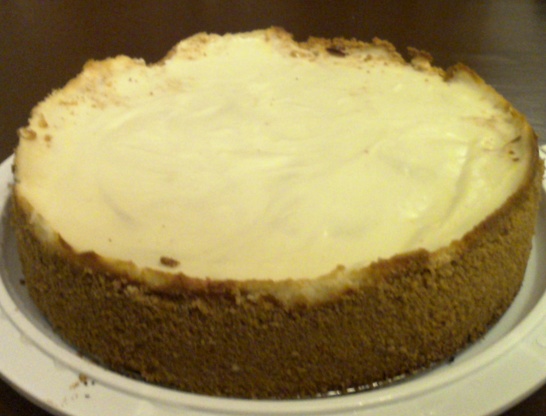 I put two old recipes together to create this recipe and have had many compliments on it being a "professional cheese cake."
I used to make a cheesecake recipe from RecipeZaar. It was the best cheesecake I ever had, it never cracked, or was dry, just perfect! Then I lost it... and the website! After much searching, hello Food.Com. And hello old cheesecake recipe's! This one is perfection. Look no further, this is the one!
Preheat oven to 450 degrees.
To make the crust, mix graham crackers crumbs, butter, and 2 tablespoons of sugar in bowl.
Press mixture in bottom and sides of 9 inch springform pan.
In mixing bowl, beat cream cheese and remaining sugar for 2 minutes.
Add eggs and vanilla to mixture and mix until well blended.
Then stir or fold in sour cream.
Pour mixture in crust filled pan and bake for 10 minutes.
Then reduce to 200 degrees to bake for 45 minutes.
From here the cheese cake just needs to be chilled, but I recommend doing the following step if you have a few extra hours- Leave in warm oven, once you turn it off but leave door slightly open.
Let sit and cool for 2 hours and remove from oven.
Remove sides from pan and chill in refrigerator.