Classic Mole Poblano Sauce With Chicken
PaulaG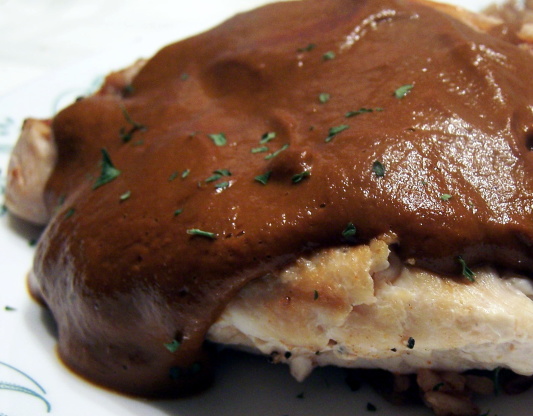 Found this on line (from The Whole Chile Pepper Book) for the World Tour 2006 "tweeked" Serving suggestion: This sauce is excellent with poultry; serve it over a turkey or chicken breast. It is also excellent as a sauce over shredded chicken or over turkey enchiladas.

Top Review by Nif_H
I have never had mole before - I've only seen it being made by TV chefs! I've heard about there being so many ingredients in it and, as you can see, there are! It wasn't hard to make though, so that was nice. I have no idea if it's authentic tasting and I think that I made it a little too thick but this sauce is just great - I would definitely make it again! Also, this was my first taste of a tomatillo and I loved it! Made for ZWT8. Thanks Rita~! :)
4

dried pasilla peppers, stems and seeds removed

4

dried New Mexico chiles, stems and seeds removed

1

medium onion, chopped

2

garlic cloves, chopped

2

medium tomatoes, peeled and seeds removed, chopped

2

tablespoons sesame seeds
1⁄2 cup almonds
1⁄2 corn tortilla, torn into pieces
1⁄4 cup raisins
1⁄4 teaspoon ground cloves
1⁄4 teaspoon ground cinnamon
1⁄4 teaspoon ground coriander

3

tablespoons shortening or 3 tablespoons vegetable oil

1

cup chicken broth

1

ounce unsweetened chocolate square, to taste (or Mexican Chocolate, (or more)
paprika, to taste
tomatillo
Combine the chiles, onion, garlic, tomatoes, 1 tablespoon of the sesame seeds, almonds, tortilla, raisins, cloves, cinnamon, and coriander. Puree small amounts of this mixture in a blender until smooth. (I added a small of amount of water or rum each time to make it smooth.).
Melt the shortening in a skillet and sauté the puree for 10 minutes, stirring frequently. Add the chicken broth and chocolate and cook over a very low heat for 45 minutes. The sauce should be very thick. The remaining sesame seeds are used as a garnish.
Season chicken breasts to taste and grill over low heat for about 25 minutes or until desired doneness. Ladle mole sauce over each breast and scatter the tops with warm corn kernels. Garnish with cilantro leaves, thin slices of tomatillo.