Classic Jewish Chicken Soup
scancan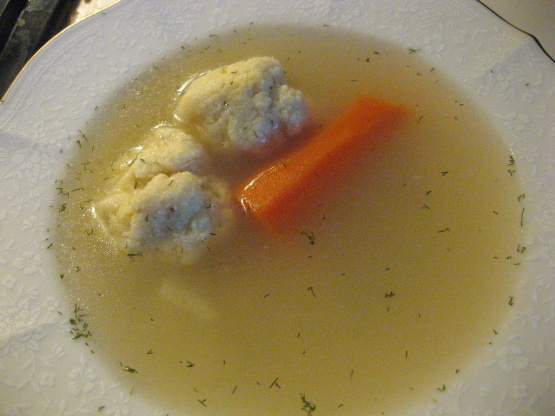 Makes a nice big pot of cure a cold, feel-good, Friday Night chicken soup. If you are looking for crisp veggies and a light, clear broth, this is not the recipe you want. Long cooking allows for the flavor of the veggies and chicken to really penetrate the broth (leaving the veggies quite soft), and keeping the cover off concentrates the flavors further. Add fine egg noodles or kreplach (Jewish meat dumplings) and you'll want to dive into the bowl! Enjoy!

I have been making this soup for years. I always use the Israeli brand of chicken soup mix (Osem) which gives it incredible flavor and really makes the soup. My kids love this so much they want me to make it on hot summer nights too but I let them wait and have something to look forward to. I also cook mine covered on a low flame, keeping it off would only make it evaporate and I don't quite see how that helps.
Bring water to boil, add chicken, return to boil (covered).
Add all vegetables except for parsley & dill and allow to cook on medium to low heat, uncovered, until reduced by about half (2-3 hours). You may skim during the cooking or refrigerate the finished soup and remove the solidified fat.
Add parsley & dill and cook for 20 minutes, then remove the herbs and discard.
Season soup with salt & pepper or boullion powder to taste. If soup is too strong, add water. If it is too weak let it boil out longer (uncovered).
Remove from heat and allow to cool.
Remove the chicken and separate out the meat into bite sized pieces (shreds). Return the chicken pieces to the pot. Serve immediately or freeze.