MasakoHI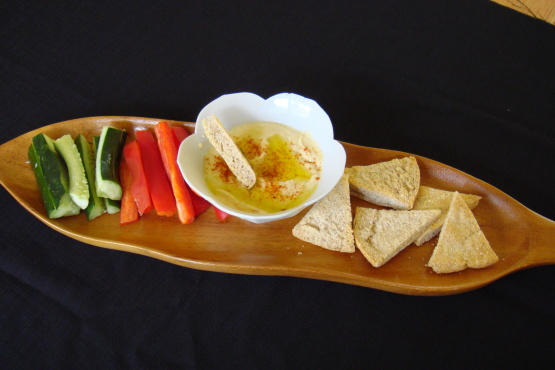 I really don't care for the hummus on the market these days, so I make my own. The proper way to serve this to guests is to create a small well in the center and pour a little bit of extra virgin olive oil in it, but I don't usually bother for myself. If you want flavored Hummus, just add the ingredient in that you want. Though it has a clove of garlic this is not garlic hummus - for garlic hummus increase the number of cloves to 3 or more to taste. Serve with crackers, pita toasts, veggies, salami, or anything else you wish! This is alot less expensive than buying hummus too! I've looked at the other hummus recipes here before posting this, but none were quite the same as this classic I have been using with rave reviews for years.

I blended everything together in my mini blender and it was EASY, DELICIOUS AND OUTSTANDING. However, I did alittle tweaking. I added some extra virgin olive oil in the blending to make the Hummus thinner, I increased the garlic to 1 1/2 cloves, increased the lemon juice and increased the ground cumin. Topped it with paprika and some extra virgin olive oil and it was GREAT. I have already made it twice. THANKS!!!
In a food processor [mini-chopper or blender], process garlic, lemon juice, and tahini to a smooth paste.
Add chickpeas, water, cumin, and salt to taste and blend until desired texture is achieved, but not too smooth - best somewhere around an applesauce texture.
Spoon into 2 serving bowls (I find dividing it into 2 bowls has been useful over the years, but you can use 1 or as many serving bowls you want of course.). Sprinkle top of hummus with paprika, then create small swirl wells in the center of each bowl and pour a bit of extra virgin olive oil in the well. Serve with your favorite snacks! Store in refrigerator.