3 Reviews
I can't believe I'm the first to review this recipe! I went through dozens of chicken soup recipes and this one really stood out. It's simple and as the name says: Classic. I've made this a few times and will be making it again tomorrow because my wife is feeling a bit under the weather and there's a snow storm in the forecast-perfect time for Chicken soup!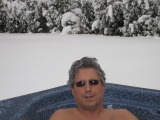 This soup is exactly what it advertises: Classic homemade chicken soup. I made this for myself when I wasn't feeling so great. It was exactly what I needed! Only change I made was to add a bunch of freshly ground pepper. I will be making this in the future. Thanks!

Thanks for clearly stating how time it takes to cook.

Classic Homemade Chicken Soup