Classic Deli Cole Slaw Dressing
lazyme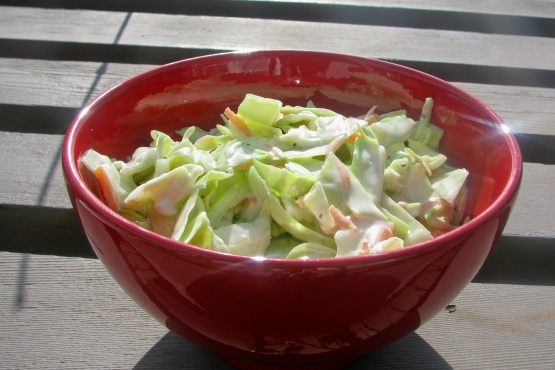 A very good dressing I found on the back of a pre-mixed cole slaw package. Tasty, easy to throw together and just like what you would find in a deli. You can make extra dressing if you like your cole slaw "extra creamy" as well as use your own mixture of shredded green cabbage, carrots and red cabbage....We love it!!!

I believe this recipe should only call for 1 teaspoon (or less) of celery seed. I thought one tablespoon would be too much and it is. It turned out extremely bitter and nasty. I added in some extra mayo and two packets of Stevia to try and offset the bitterness. I used 12 ounces of Fiesta Slaw purchased at HEB. I hate wasting food, so we will just have to suck it up and eat it. I will make again, but will drastically reduce the celery seed.
Mix together mayonnaise, vinegar, sugar, milk and celery seed until smooth.
Add to cole slaw ingredients, coat entirely.
Refrigerate for several hours.
You can add your own special touch by incorporating other ingredients - pineapple, raisins, chicken etc -- .