Chickee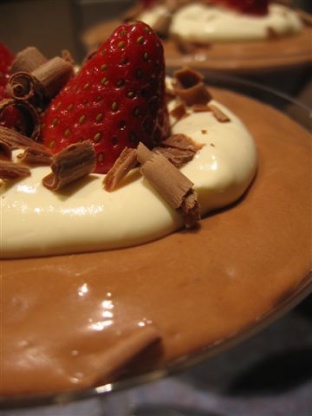 There are a lot of mousse recipes out there. This is the one I prefer. Easy to make and so good. It makes me happy!

Chocolatey, smooth, rich and easy to make - what more could you ask for? I had never made chocolate mousse before, and was surprised had how simple this recipe was, yet it produced "wow" results.
Mousse

6

ounces semisweet chocolate, chopped
3⁄4 cup whipping cream

2

large egg yolks

2

teaspoons brandy (optional)
1⁄3 cup chilled whipping cream

1

tablespoon sugar
1⁄2 teaspoon vanilla extract

Cream

1⁄2 cup chilled whipping cream

2

teaspoons sugar

2

teaspoons brandy (optional)
For mousse: Heat whipping cream gently in double-boiler or small saucepan until it comes to a simmer.
Remove from heat and add chocolate.
Stir until the chocolate has completely melted.
Whisk in the egg yolks and brandy.
Set aside to cool completely.
Beat 1/3 cup cream, sugar and vanilla in medium bowl to stiff peaks.
Fold into cooled chocolate mixture.
Spoon into wineglasses.
Cover with plastic wrap and refrigerate until firm, about 3 hours.
For cream: Beat cream, sugar and brandy in medium bowl to soft peaks.
Top mousse with dollops of cream.