Classic Chocolate Chip Cookies
Nif_H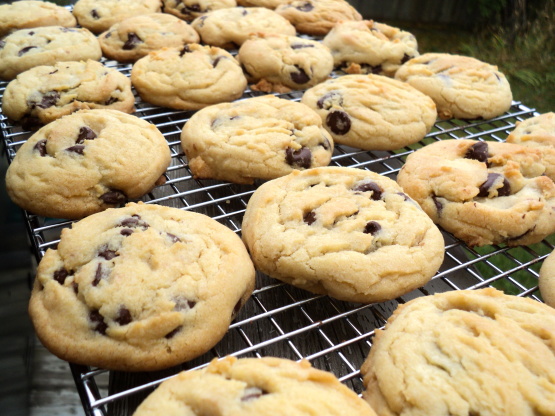 With morsels of semisweet chocolate nestled in rich butter cookie dough, these drop and bake cookies have become a longtime favorite.

Top Review by Nif_H
There's nothing like a warm chocolate chip cookie with a big, cold glass of milk! These are really good even though I skipped the walnuts (my youngest son doesn't like them). This is a great go-to recipe for a classic cookie! Made for my adopted chef for PAC 2011. Thanks Nurse_Corie! :)
preheat oven to 375. In a large bowl, combine butter and shortening; beat with an electric mixer on medium to high speed for 30 seconds. Add sugar, brown sugar, baking soda, and salt; beat until mixture is combined. Add eggs and vanilla; beat until combined. Beat in as much of the flour as you can with the mixer. Stir in any remaining flour, the chocolate pieces and walnuts.
Drop by rounded teaspoons 2 inches apart onto an ungreased cookie sheet. Bake in preheated oven for 10-12 minutes or until lightly browned. Transfer to wire rack; let cool.
To store: layer cookies between waxed paper in an airtight container; cover. Store at room temperature for up to 3 days or freeze for up to 3 months.