Ashley Cuoco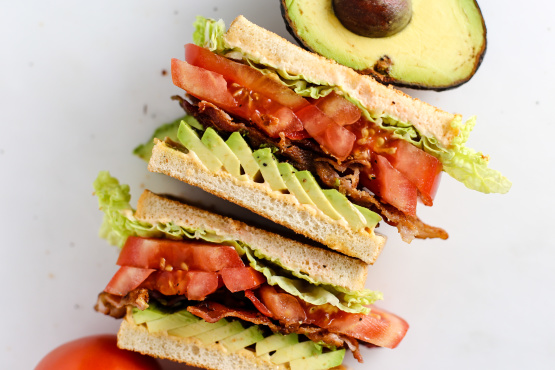 This is a sandwich that I crave a lot. I am just posting it because I couldn't find it posted already on the Zaar...I couldn't believe that! My ex-DH wondered how I make these, so I decided to post it and send him the recipe. Nothing fancy -- just the real, simple, unabridged version. UPDATE: After reading Peg629's review, I have tried it that way, with one slice of toast spread with yellow mustard, and I must say it really, really makes an exceptional BLT! Such a subtle difference, yet genuinely makes a superior BLT, in my opinion! (Thank you Peg629 for that awesome suggestion!)

Made this for dinner using Chef #67103 's Recipe #208501 and of course, this classic sandwich is DELICIOUS! Next time I think I'll try the suggestion of mustard on one slice of the bread! Stacky.... you will ge greatly missed!!!
Cook bacon until crispy, then drain on paper towels.
Toast the 8 slices of bread.
Spread 1 tablespoon mayo on each slice of toasted bread. (More or less, to taste).
Add 1 slice of lettuce to 4 pieces of mayo-spreaded toast.
Add 2 slices of tomato on top of lettuce.
Arrange 3 slices of bacon evenly on top of tomato. (Break bacon slices in half to fit, if needed.).
Add 1 slice of lettuce on top of bacon.
Put the remaining 4 pieces of mayo-spreaded toast on top to finish the sandwiches.
Enjoy!
NOTE: I also like to butter the toast slices before adding the mayo -- higher in fat, but tastier, in my opinion!