Classic Bistro Style Gratin Dauphinois - French Gratin Potatoes
gerry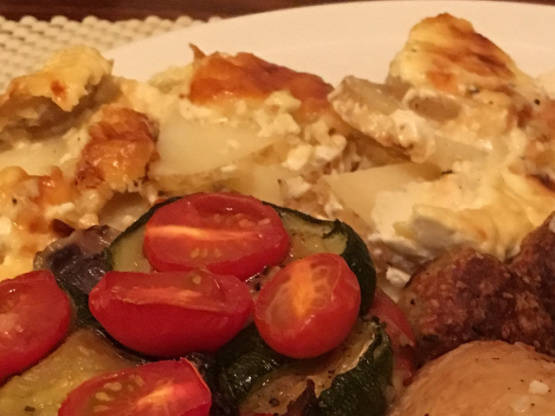 This classic French potato gratin dish is world famous, and rightly so! I am quite happy to have this as a main meal, with just some crusty bread and a large mixed salad on the side. I have heard that this famous dish was created as a way of encouraging the "Dauphin" (the young prince destined to become King Henri II), to eat up his vegetables, hence the name! Maybe - it is certainly just as popular with children, as it is with adults. Try to slice the potatoes as thinly as possible for the best results. A wonderful accompaniment for all sorts of roast meats, stews, casseroles and poultry. This recipe is not strictly French, using as it does a Swiss cheese.
It's not often that I'd risk serving an untried dish for Christmas dinner, but as it was French Tart's recipe, no worries. :) It was a superb accompaniment to beef tenderloin! Since we especially love a slightly crispy top on gratins, I used Yukon Gold potatoes that had been left unpeeled. The tender skins browned beautifully. I was a little timid about adding seasonings to each layer for fear it might be too salty. Next time, I'll use a slightly more generous hand. And since the little bit that was left over tasted even better, I'm going to follow KissKiss's lead in future, cooking earlier in the day and then reheating. From everyone's reaction, though, I think we have a new Christmas 'tradition' at our house!
Preheat the oven to 300F/150C/gas mark 2.
Take a heavy-bottomed dish or an ovenproof gratin dish (a Le Creuset is ideal - the potatoes tend not to catch), and grease it will with some of the butter.
Layer the potato slices in the dish, slightly overlapping each other, seasoning lightly with the salt and pepper, and sprinkling a liberal amount of cheese on each layer.
Sprinkle cheese on the top of the last layer.
Put the double cream, garlic and sprigs of thyme in a pan and bring to them gently to the boil, then remove the thyme and pour hot cream over the potatoes.
Dot the top of the gratin with the remaining butter and some extra cheese if you wish, and bake for about 1 hr to 1 1/2 hrs, or until the potatoes are soft, and the top is crispy and golden brown.
Serve bubbling hot as a main meal or as an accompaniment.