Classic Beef Burgundy Stew
BecR2400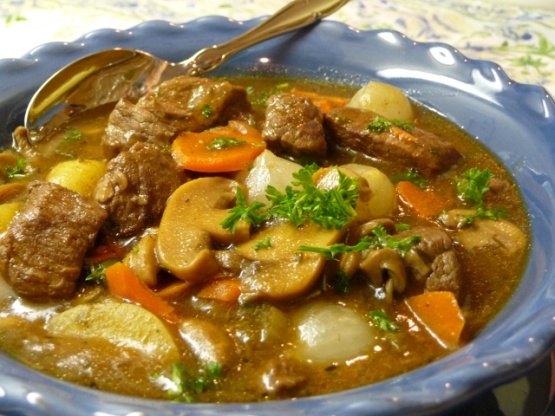 A hearty stew with garlic, and fresh vegetables. Recipe courtesy of Sorensen's a historic resort in the Sierra Nevada. Time is an estimate.

I actually made this in the crock pot today. We had a two month old faulty furnace replaced today with another new one and the path to the basement is through my kitchen. Long story short, I browned the beef, cooked the onion and garlic for a bit in the same pan and then chucked everything into the crock and put it on low at about 8:45am. By the time the furnace man was finished I think he was on the verge of drooling when passing through the room. As we didn't get lunch DH and I had an early dinner and it was indeed wonderful. It has a rich and deep flavor that is very satisfying and was certainly easy to make in the crock. Sorry Cookie, no pix tonight as we have to go clean concrete dust and bits out of the basement.
Melt butter in a large skillet over medium heat. Add garlic and pepper. Add beef in batches and brown thoroughly.
Put beef into a soup pot with wine, beef base, consomme, onion, celery, parsley, basil, bay leaves and garlic salt. Bring to a boil, lower heat, cover and simmer for 45-60 minutes, until meat is tender.
Add carrots and potatoes; simmer until tender. Add mushrooms and cook a few minutes longer until mushrooms are cooked through. Adjust seasonings, to taste.
To thicken, mix cornstarch with enough water to form a smooth, slightly thick mixture; stir into stew, remove from heat and serve.