SharonChen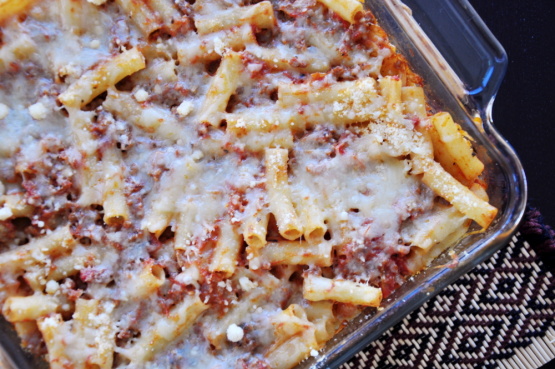 This baked ziti recipe is a simple Italian casserole dish that my family enjoys.

You know, I had never had baked ziti before - even eating out. I found this recipe when I was "on the prowl" for something totally different a couple of nights ago. Followed the recipe to a tee (except I subbed salt-free homemade meatless sauce and low-sodium chicken broth so that I could enjoy it without feeling guilty!) and BINGO! I was in business. Served it with a very crisp green salad topped with very spicy Greek olive oil dressing and my homemade sourdough croutons, and it was a meal to remember.
Preheat oven to 350 degrees F.
In a large skillet, cook ground beef, onions, and garlic over medium-high heat for 6 to 8 minutes or until beef is browned; stirring frequently.
Stir in spaghetti sauce, chicken broth, and oregano.
Reduce heat and simmer for 10 minutes.
Stir 1 cup of the sauce into the cooked ziti noodles.
Spoon 1/2 of the ziti mixture into a 13x9x2-inch baking dish.
Sprinkle with 1 1/2 cups mozzarella cheese and 1/2 cup Parmesan cheese.
Top with 2 cups sauce, then remaining ziti mixture and remaining sauce.
Cover and bake 20 minutes.
Sprinkle with remaining mozzarella and Parmesan cheese.
Return to oven and bake uncovered for 10 minutes or until heated through.