Lainey39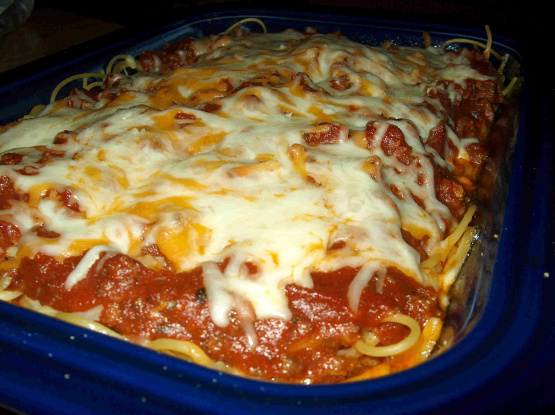 I looked everywhere for an easy baked spaghetti that did NOT use mushrooms or cream of mushroom soup (husband is allergic). I am happy to say I found it. You could add mushrooms, green pepper, olives, etc. to this dish for added variety, but I like it just the way it is! This makes a great family meal...just add a tossed salad and some garlic bread, and dinner is ready in about an hour.

Try this instead. Don't cook the noodles, instead just add a little water with the sauce each layer. Just add about 15-20 minutes to the time in the oven. If you boil the noodles, then cook them in the oven, you are over cooking the pasta and it will be bland. To spice it up, use ground pork sausage (hot or mild) instead of hamburger meat. The sauce is key too. Be sure to get something with a little pizzazz to it. Use some thyme and other Italian herbs as well as Italian cheese, in addition to the cheddar. If you have time, cook it low and slow (325 for an hour, instead of 350 for 40-45 minutes) Guarantee you will like these additions/changes to the recipe to make people rave about this dish in the future!
Preheat oven to 350.
Cook noodles in boiling water; drain.
Meanwhile, brown ground beef and garlic over medium heat; drain.
Combine browned ground beef, spaghetti sauce, and oregano.
Spray a casserole dish with cooking spray.
Place 1/3 of noodles in bottom of dish.
Top with 1/3 of spaghetti sauce mixture, and 1/3 of cheese.
Repeat twice, ending with cheddar cheese.
Bake at 350 for 25-30 minutes.