Lainey39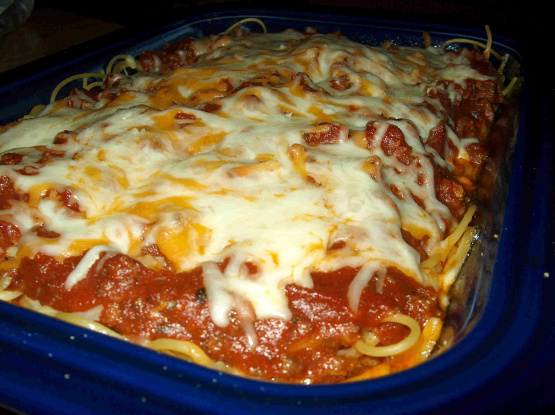 I looked everywhere for an easy baked spaghetti that did NOT use mushrooms or cream of mushroom soup (husband is allergic). I am happy to say I found it. You could add mushrooms, green pepper, olives, etc. to this dish for added variety, but I like it just the way it is! This makes a great family meal...just add a tossed salad and some garlic bread, and dinner is ready in about an hour.

I made this for bingo this week and it was well received by all, though no one was really WoW'd by it. Some stated it was good. The only changes I made was to use Italian Seasoning in place of the oregano (I used 1 T. instead of 1 tsp. because I doubled the recipe), and used Cheddar cheese for the layers and Mozzarella cheese on top. I made it with whole wheat pasta and canned Hunt's spaghetti sauce with no added sugar. I am sure it would be much better with homemade pasta sauce, but this worked for a quick throw together casserole. Thank you for sharing your recipe with us Angela. I am sure I will make it again sometime with my homemade sauce. Linda
Preheat oven to 350.
Cook noodles in boiling water; drain.
Meanwhile, brown ground beef and garlic over medium heat; drain.
Combine browned ground beef, spaghetti sauce, and oregano.
Spray a casserole dish with cooking spray.
Place 1/3 of noodles in bottom of dish.
Top with 1/3 of spaghetti sauce mixture, and 1/3 of cheese.
Repeat twice, ending with cheddar cheese.
Bake at 350 for 25-30 minutes.