Classic Asparagus Frittata
Kathy228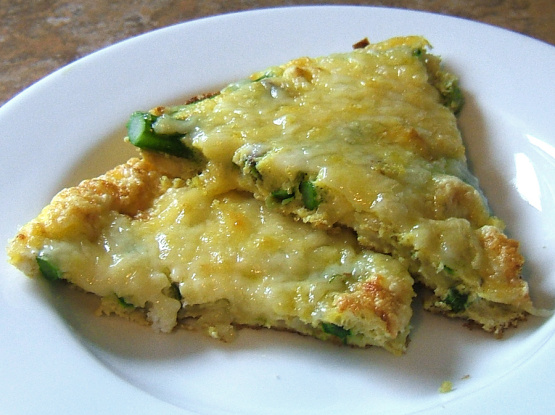 This frittata takes only six ingredients usually found on hand. It's so easy to put together. Though I've only made it with Jarlesberg Swiss, you can use your favorite cheese(s) such as fontina, mozzarella, provolone, jalapeno jack, asiago; or a combination of a couple. I increase the olive oil to a tablespoon. Recipe from Simply Recipes online.
Heat olive oil in a 10-inch oven-proof frying pan.
Add onions and salt and cook until onions are soft, about 3-mins.
Add asparagus. Cover and reduce heat to med-low.
Cook until asparagus are barely tender, 5-6 minutes.
** preheat broiler while asparagus are cooking.
Pour eggs over asparagus and cook until almost set but still runny on top, about 2-mins.
Sprinkle cheese over eggs and put under broiler. Broil until cheese is melted and lightly brown, about 3 minutes.
Remove frittata from oven, gently loosen the edges, then slide frittata onto a serving plate. Cut into wedges.