loof751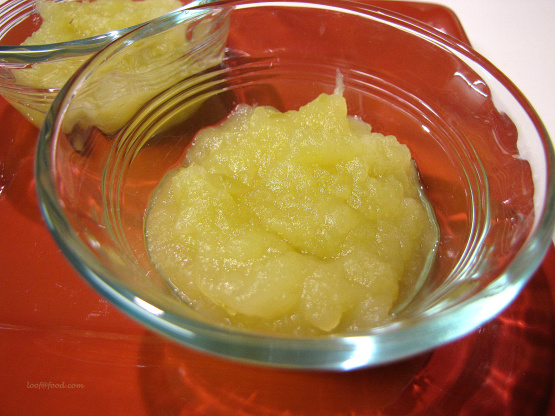 Making a simple, chunky applesauce, this recipe comes from the 2005 cookbook, Get Saucy. I prefer using either Mcintosh or Pippin apples for this sauce, & making a double batch allows for freezing some for later! [NOTE: in Oct 2009 I did try this using Fuji apples & it turned out VERY WELL, & I've now changed to using the apple cider!]
In a medium-size, heavy saucepan, combine apples, sugar & water & bring to a boil.
Cover & simmer over medium-low heat until the apples are tender & broken down, about 15 minutes, stirring once or twice.
Raise the heat to medium-high & cook, uncovered, until liquid is slightly reduced, about 5 minutes longer, then stir in lemon juice.
For a smooth sauce, stir frequently or puree in a food processor.
Serve warm or cold.
Will keep, tightly covered, in the refrigerator for up to 1 month, or in the freezer for 2 months.