Karen B.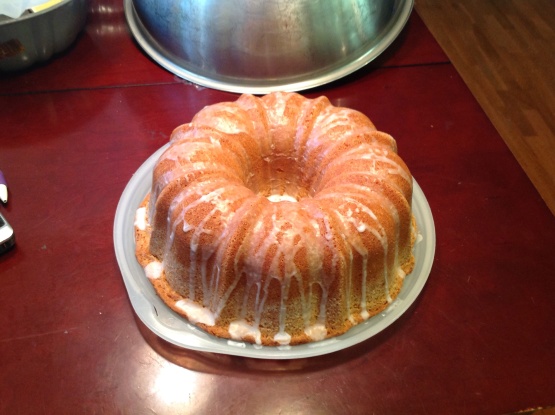 This is an outstanding pound cake and one I have made many times in the past, follow the steps properly and you will have pound cake like no other!
My 10 year old daughter has become a baking fool and we HAD to try this. It was so easy and SO YUMMY! After we finished it off we realized we had Fanta Orange soda in our fridge and had some orange extract in the cabinet. We made another cake, substituting the 7-Up and the almond extract....OH MY WORD!!! It takes just like orange creamcicle. YOU HAVE TO TRY IT!!!
Set oven to 300 degrees F.
Grease and flour a 10" tube pan.
In a large bowl combine butter, shortening, 3 cups sugar (use only 3 cups sugar) vanilla and almond extract; beat using an electric mixer until light and fluffy (about 5 minutes).
Sift the flour and salt together.
Add eggs, 7-up, and the flour mixture to the butter mixture, using the following directions:.
This method must be followed; add 1 egg in at a time; then add a bit of Seven-Up, then a bit of the flour mixture, then a bit more of Seven-Up; repeat until all the eggs, flour mixture and 1 cup Seven-Up is used up (you will use the remaining 1/4 cup for glaze).
Spoon mixture into prepared baking pan.
Bake at 300 degrees for 1 hour and 40 minutes, or until cake tests done.
Cool in pan on a wire rack for 10 minutes.
Remove from pan.
Mix the remaining 1/2 cup sugar and the 1/4 cup Seven-Up soda.
Spread the glaze mix over cake.