Brenda.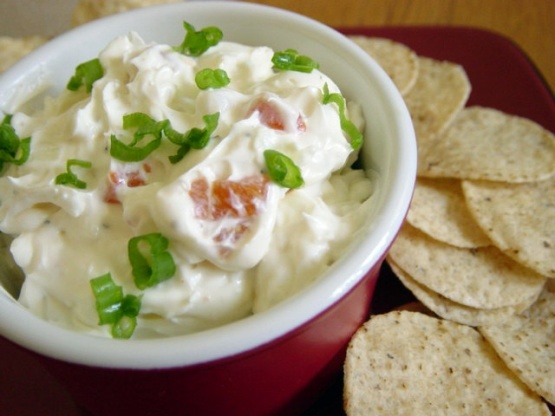 I adopted this recipe and haven't tried it yet but will and make and add any changes needed. Thanks to Nick's Mom, who helped revise this recipe, I've made a few changes.
Very good, very good. I made it for the super bowel 2010. I had a little problem with the recipe but that may be just me. Step five is unclear to me. I hope the chef changes it a bit. I did not know weather the recipe called for real garlic.Garlic powder or maybe even garlic salt. I used real garlic. I served it with chips and it was popular.
Chop onions in blender or processor.
Be careful of adding liquid to the dip and making it runny.
Chop crab into small (but identifiable) pieces.
Combine the cream cheese and sour cream in blender/processor.
Add the spices and blend well.
Add onions and crab and mix well. (Mix by hand to avoid chopping the crab into smaller pieces).
Store in refrigerator for several hours.
If dip is too runny, add some dehydrated onions to absorb the excess liquid.
Serve on crackers, chips or vegetables.