Clare's Winter Vegetable Cobbler
loof751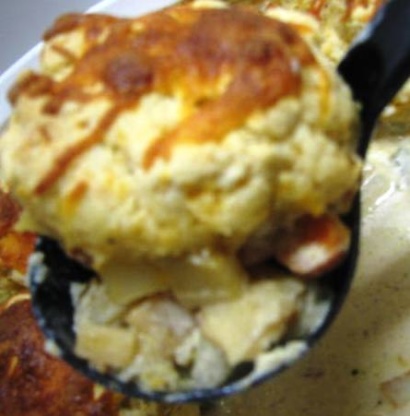 I don't know who Clare is but this is another Ainsley recipe. This delicious recipe is perfect when you want a step up from boring old roast vegetables. I just use whatever I have in the fridge and it turns out perfectly. I really recommend this! (Tonight we had it with eggplant, leek and peppers)

This dish was very unusual! The cheese on my "cobbles" got a little too brown, so next time I will probably top with cheese with only about 10 minutes left in the baking. I think this dish would be good with any number of different combinations of vegetables, herbs, and broth flavors. Thanks for posting!
Pre-heat the oven to 200C/400F/Gas 6. Place the vegetables and sage in a roasting tin, drizzle with oil and season with salt and pepper. Roast for 30 minutes until nicely browned.
Meanwhile, place the flour, salt, cayenne, butter and three quarters of the cheese in a food processor and whiz until well blended. Beat together the egg and 2 tablespoons of the milk then add to the food processor. Pulse to form a smooth, soft dough.
Mix together the stock, cream and mustard, and pour over the vegetables. Then, with floured hands, roll the cobble mixture into 6 balls and flatten slightly with the heel of the hand. Brush the tops of the cobbles with the remaining milk, then scatter over the reserved cheese.
Carefully place the cobbles on top of the vegetables and sauce and bake for 20 minutes until risen and golden brown. Serve immediately.