Clams With Angel Hair Pasta
Hadice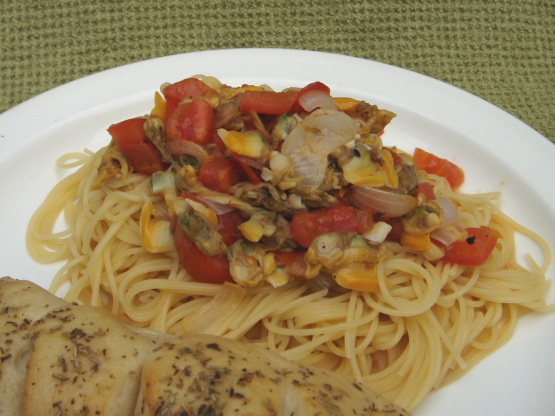 This dish started out as an easy quick meal for myself. But it is really good. Don't be shy with the pepper and you'll love the results.

Okay, So i have to admit.... I was a little hesitant to make this... I mean how good can these ingredients really be thrown in together??? well, It's freaken awesome!!! nice light meal! Loved it, Will certainly make again!
Coarsely chop onion Coarsely dice tomato.
Crush garlic.
Heat olive oil in large frying pan on medium high heat.
Add garlic to pan and brown for about 30 seconds.
Add onion and fry about 2 minutes.
Add tomato and fry about 2 minutes.
Add clams with juice.
Add salt and pepper to taste.
Let mixture bubble until reduced by half (about 3-4 minutes).
Serve over angel hair pasta.