Swirling F.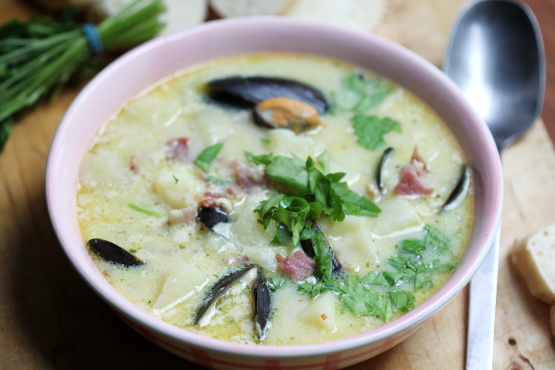 Best ever, lots of clams!! lots of flavor! Recipe can be cut in half. If you would like to make this chowder really special, I have made it adding clams in the shell and mussels in the shell, with pealed prawns added at the very end, did this for Christmas Eve, served with cranberry scones, Delicious!

This is soooo good Dorothy. Just the way my grandmother used to make. The chowder turned out very rich and creamy. I just used a little extra clam juice to get the right consistency as we like ours a little thick. This was very heartwarming and a comfort food for me. Thanks
Fry bacon in a large Dutch oven until crisp, remove with slotted spoon and set aside.
Add onion to pot, saute until softened, then add potatoes and chicken stock.
Season with salt and cayenne, cover and cook for 15 minutes.
In a second large saucepan, melt butter, whisk in flour, whisking to make a roux.
Cook for 1 minute, then add cream and milk while whisking.
Cook over low heat until thickened.
Pour into onion and potato mixture, add clams, 2 cans undrained, add clams only, from the other cans reserving the juice.
Add Worcestershire and bacon.
Add the other 2 cans of reserved juice a bit at a time to reach desired consistency and only if you want the soup less thick.
Stir and gently cook over moderate heat until heated through.
Transfer to soup tureen and garnish with parsley and paprika if using.