CLAM CHOWDER (New England Style)
TracyO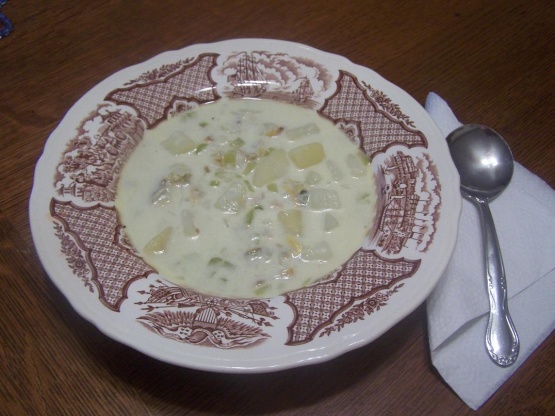 There are hundreds of recipes for New England Clam Chowder. I was born and raised in Philadelphia, where there are wonderful New England style restaurants. When I say that this is the BEST RECIPE I have ever tasted, you can TAKE THAT TO THE BANK!!!

This is Emeril Lagasse's Recipe. I have been making it for years and it's the best I've ever had. It is a bit thin, so plan on thickening it with the method of your choice....It's alot of work, but well worth it!
In a large stockpot bring 2 cups of water to a boil.
Add clams, cover and cook for 5 minutes.
Uncover, quickly stir clams with a wooden spoon and cover again.
Continue to cook 5 to 10 minutes longer, until most of the clams are opened.
Transfer clams to a large bowl and strain the broth twice through a fine mesh sieve or cheese cloth into another bowl, being careful to strain out the sand and grit.
You should now have about 6 cups of clam broth.
If not, add enough water to make it 6 cups.
When clams are cool enough to handle, remove them from their shells and cut into 1/2 inch pieces.
Set clams and broth aside.
In a large heavy pot, cook bacon until crisp and fat is rendered.
Pour off all, except 2 tablespoons, of the bacon fat.
Add the butter, onions and celery and cook until softened, about 5 minutes.
Add the garlic, thyme and bay leaves and cook until vegetables are completely wilted, about 3 minutes, being careful not to brown.
Add the potatoes and the reserved clam broth and bring to a boil.
Lower the heat, cover, and simmer for 20 to 30 minutes, until broth slightly thickens and the potatoes are very tender.
If you prefer a thicker broth, mash some of the potatoes against the side of the pot with a wooden spoon.
Remove from heat, stir in the clams and heavy whipping cream, and season with salt and pepper, if necessary.
Set aside for 1 hour, to allow all of the flavors to thoroughly blend.
Place the pot over low heat and slowly reheat, being careful not to bring to a boil.
Serve hot, garnished with 1 or 2 pats of butter and some chopped scallions.