Parsley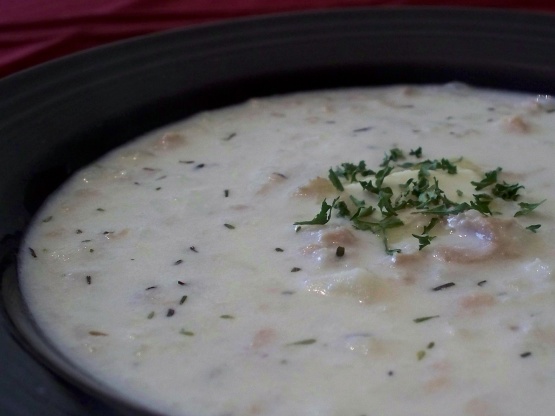 My favourite clam chowder recipe. Not much to get in the way of the clams except for some potatoes, cream and butter. Sometimes, austere simplicity is the only way to go.

this is probably the purist version of clam chowder . i wound up adding a bottle of clam juice, a cup of fish stock , and other ingredients which probably made this more of my own recipe than yours, sorry. my family thought this was bland so i had to add ingredients to make them happy.
Cook potatoes in salted water until tender, about 25 minutes. Drain. Mash lightly.
In a saucepan, melt butter over medium heat and saute onion and garlic until translucent, and starting to go a light gold, 6-8 minutes.
Add the half and half and cream, ¾ cup reserved clam juice, salt, thyme and white pepper and heat to scalding.
Add potatoes and clams.
Bring to simmer, stirring frequently. Thin with some milk if desired.
Serve immediately, floating 1 pat of butter per bowl of soup and dusting with parsley.