Parsley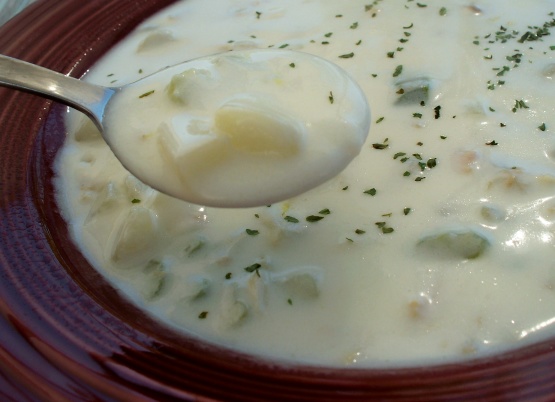 We make this recipe on Halloween night, along with My five star potato Soup for the kids. Its quick yet special. Serve with some crusty garlic toast! Thank you Stephanie!

My family said this was delicious. I really liked the flavor that the red wine vinegar added to this chowder. Thank you for sharing this recipe.
In medium saucepan add: salt, celery, potatoes, onion,"juice" from the 2 cans of clams.
Add just enough water to cover mixture.
Simmer 8-10 minute or until potatoes are tender.
Meanwhile: In a large stockpot, bring to boil 1 half and half and butter stirring constantly.
Mix together cornstarch and milk.
Slowly stir into half and half mixture while boiling, stirring rapidly, remove from heat.
Stir in vegetable mixture.
Add red wine vinegar.
Add clams and Fresh pepper to taste!
DO NOT BOIL CLAMS!
Enjoy!