Claire Fisk's Irish Soda Bread
Dee514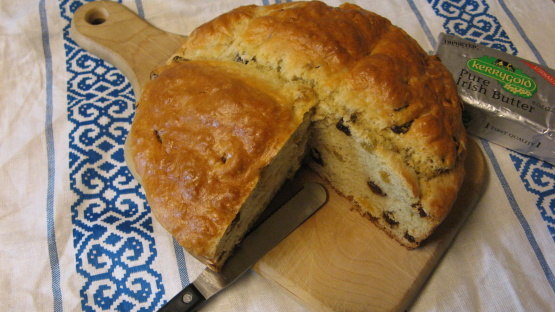 This recipe is from my sister-in-law's mother, (Claire), who was born and raised in Ireland. Note: I usually make this with a mixture of "white" and dark raisins (3/4 cup each). You can use 8-inch (for 2 loaves), or 9-inch (for 1 loaf) round cake pans in place of the 1 and 2 quart round casserole dishes. (photo of 1 large 8 1/2-inch loaf)

Really good bread with a meal or as a sweet loaf. I made it in my cast iron frying pan in the oven. Yummy.
Preheat oven to 350°F.
Grease a 2 quart round baking pan (or two 1 quart round baking pans if you divide dough into 2 loaves).
In a bowl, using a fork, mix together flour, sugar, salt, baking powder and baking soda.
Cut in butter until mixture forms coarse crumbs.
Stir in raisins and caraway seeds.
In a small bowl, beat eggs.
Remove 1 Tablespoon of the beaten eggs and set aside.
Stir buttermilk into eggs.
Stir buttermilk/egg mixture into flour mixture until just moistened; dough will be sticky.
Knead dough on well floured surface (about 10 strokes).
Shape dough into a ball and place into greased baking pan.
Cut a 4 inch cross into the center of the loaf (about a 1/4 inch deep).
Brush top of loaf with reserved beaten egg.
Bake at 350°F for 50-70 minutes (depending on your oven).
Cool in pan for 10 minutes.
Remove from pan, continue cooling on a rack until just "warm", serve with lots of butter or let cool completely.
(Slices easier when completely cool).