BarbryT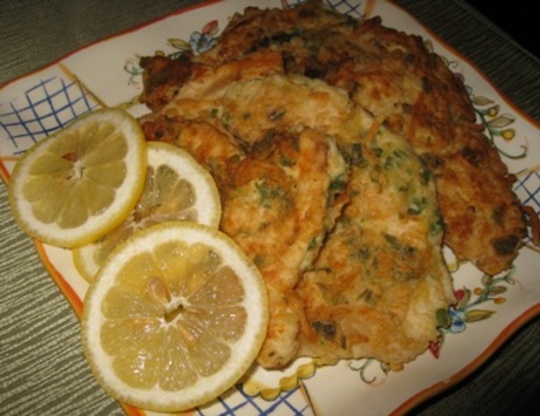 This is a healthy and tasty alternative to deep-fried chicken. I got this recipe from a newspaper which stated that it was from Chef Kathleen Daelemans' "Cooking Thin."
Season chicken generously with salt and pepper on both sides.
Place egg whites in shallow dish or plate.
Whisk in cheese and parsley.
Dredge each chicken piece through egg mixture and set in plate containing flour.
Shake plate so chicken pieces get coated, turn chicken over and repeat.
Lay on cookie sheet lined with parchment paper and set next to stove.
Heat oil in 12-inch nonstick skillet pan over medium-high heat.
When hot but not smoking, add chicken and cook, turning once, until golden and cooked through, about 2 minutes per side or until chicken is no longer pink and juices run clear.
Serve with lemon wedges.