Citrus Steamed Trout With Quinoa Pilaf
seandrew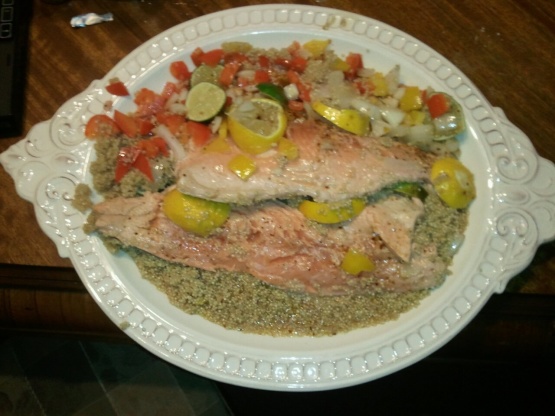 A flavorful melody that's super quick and easy (as long as you can find Rainbow trout[or whatever fish you like] and the quinoa). I used Mrs. Dash to add some kick. I you can't find it, you can add some chilli powder and cayenne pepper. If you don't like spicy, skip the Mrs. Dash, maybe add some thyme, marjoram and rosemary for a twist provençale.

I had fish and tri color quinoa to use, so tried this. The flavor was great- never thought to but beef and lemon together. But I couldn't make a "packet" with how much quinoa and boiled liquid there was. It was just too much stuff, too hot to handle. I had to just fold everything in and hope for the best, and I still ended up with a lot of liquid in the end. A tight cover on a casserole dish might have worked better for me. Also, the photo is not fair. LOL You must have sat there and separated everything out. My final look was a mountain of veggie infused quinoa, and maybe a fish under there if you can find it. :)
Preheat oven to 400 degrees.
In the 2 tsp evoo, sauté the onions and peppers until onions are caramelized.
In sauce pan, combine lemon juice, beef broth, seasoning and quinoa. Bring to boil, cover, and let boil for 8 minutes.
While that's boiling, on a cookie sheet, place aluminum foil twice the length of it and make a shallow lip. Cover bottom in 4 tsp of evoo.
Place fish skin down on foil.
Mix vegetables into the quinoa and pour mixture over fish. The quinoa will still be soupy.
Arrange the lemon and limes over top.
Fold over the foil and pinch the sides closed, making an airtight pouch.
Place in oven for 8 minutes.
Remove pan from oven but let pouch set closed for another 5 to 10 minutes before opening it.