Citrus-Stacked Pork Burger
Boomette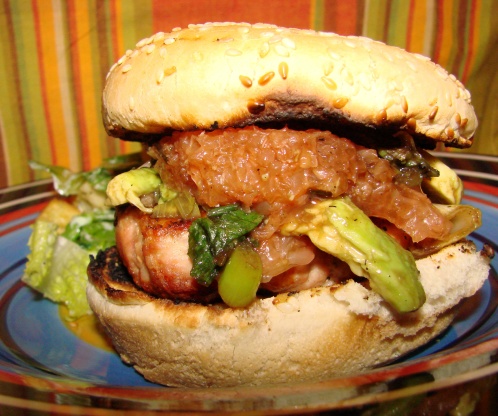 When I saw this recipe in the magazine of Rachael Ray, I had to try it. It's yummy and different. So original. The flavors are great. We cooked the scallions and the pork burgers on the bbq.

These burgers are fabulous!!! Like 10 stars fabulous! They caught my eye right away when I first saw them in Rachael Ray's magazine. A tasty break from the usual beef burger. I love what the grapefruit added to the overall flavor. I grilled mine on the BBQ and hubby hasn't stopped talking about them. They are a little messy and sticky though!
Slice off the ends of each grapefruit and place the fruit cut side down on a cutting board. Slice off the peel and pith. Working over a bowl, make a cut on either side of each segment to release it from the membrane into the bowl. Squeeze the remaining juice into a saucepan. Add the vinegar and honey and simmer over medium-high heat until syrupy. Add to the grapefruit sections.
Meanwhile, preheat a grill pan to medium-high. Add the scallions and cook until slightly charred. Cool and thinly slice. Add the scallions and avocado to the grapefruit segments.
Preheat a grill pan to medium. In a bowl, combine the pork and onion powder; season with salt. Shape into 4 patties. Grill the patties, turning once, until cooked, about 8 minutes.
Meanwhile, spread the butter on the rolls and grill until toasted. Place a patty on each roll bottom. Top with the grapefruit-avocado salad and the roll tops.