ImPat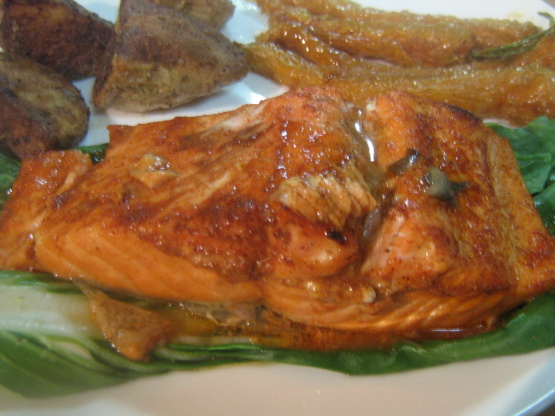 This is an easy, excellent way to prepare salmon.

Top Review by ImPat
The DM really enjoyed this and I found it a bit too sweet for my tastes but made for her more than me. I did notice in the recipe that it say 1 (6 ounce) salmon fillets - I think this should read 6 (6 ounce) salmon fillets as it is supposed to be for six persons. I sacaled the recipe back for my 2 fillets (skin on) which weighed 7 1/2 ounces and took 12 minutes to cook to perfection. I served mine on a bed of steamed baby bok choy and served with baby carrots and crusty baked potatoes. Thank you Kana, made for Bargain Basement.
Preheat oven to 400.
Mix together all ingredients except salmon.
Coat salmon with mixture.
Bake until done (about 12 minutes).