lazyme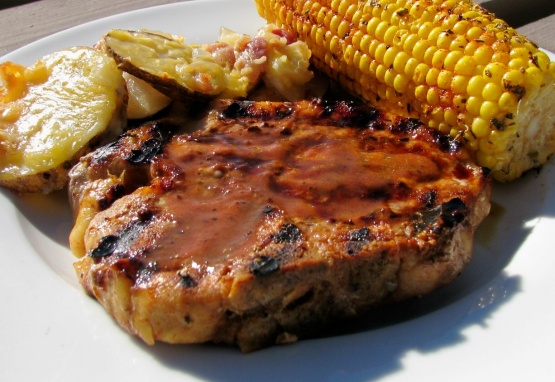 Adapted from 'Ness' at www.once-a-month-cookingworld.com. I changed recipe only slightly to suit what I usually have in stock and what is easier for me. Easy Pork Chop recipe for the grill or stovetop cooking. OAMC recipe or can be marinated before cooking.
Combine ingredients in a large Ziploc freezer bag.
Remove as much air as possible.
Label and freeze.
Defrost overnight in the fridge; pork will marinate as it defrosts.
To serve, remove chops from bag and place in a non-stick skillet; reserve marinade.
Cook for 5 minutes, or until brown, repeat for other side.
Add marinade, and reduce heat to medium. Cover and cook for 7 minutes, or until chops are no longer pink in the middle. Transfer pork to a plate and cover. Turn heat to high and whisk for 3-5 minutes until sauce is thick. Spoon over pork.
OR cook on heated grill until done, baste with marinade while cooking.