Adapted from 'Ness' at www.once-a-month-cookingworld.com. I changed recipe only slightly to suit what I usually have in stock and what is easier for me. Easy Pork Chop recipe for the grill or stovetop cooking. OAMC recipe or can be marinated before cooking.
Directions
Combine ingredients in a large Ziploc freezer bag.
Remove as much air as possible.
Label and freeze.
Defrost overnight in the fridge; pork will marinate as it defrosts.
To serve, remove chops from bag and place in a non-stick skillet; reserve marinade.
Cook for 5 minutes, or until brown, repeat for other side.
Add marinade, and reduce heat to medium. Cover and cook for 7 minutes, or until chops are no longer pink in the middle. Transfer pork to a plate and cover. Turn heat to high and whisk for 3-5 minutes until sauce is thick. Spoon over pork.
OR cook on heated grill until done, baste with marinade while cooking.
Reviews
Most Helpful
These were nice pork chops. I did not freeze them, but marinated them all day and grilled them on an indoor grill for dinner. We enjoyed the sauce on these simple chops. Thanks for sharing. Made for Best of 2014 tag.

Fabulous chops! The sauce consistency (thick) and flavor (awesome) were perfect. I over-cooked the chops, but the sauce more than saved them. I didn't use the freezer method. I just marinated them all day while I was at work. Great flavor. Thank you!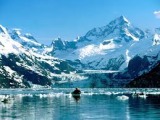 Oh my!!! Very yummy pork chops!! I followed this as written, although only making 1/2 of the recipe for 2 good size chops, then freezing and thawing as directed. I did make the mistake of not mentioning to DH that there was some honey in the recipe, so some parts of our chops got a little more charred than normal for us, due to the sweet/sugar type of addition to the marinade, but totally my fault. This is a recipe I will make often, so good and flavorful!! Thanks so much for sharing the recipe christianrock_chick!! Made for Spring PAC 2014.