Citrus Marinated Pork Chops (oamc)
Pamela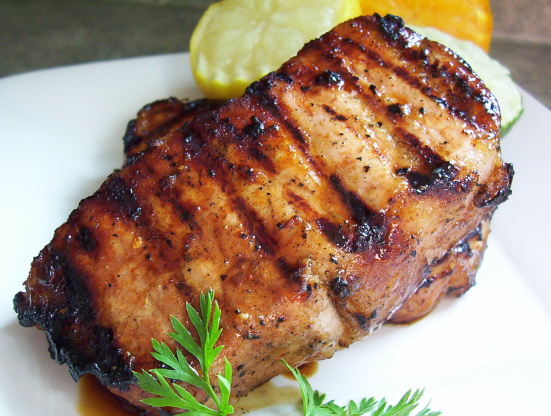 Adapted from "Prevention's Freezer Cookbook" by S. Sanders. Can be made without freezing first, just be sure to marinate chops at least 6 hours before cooking for best flavour.

I followed this recipe exactly and did the OAMC freezing right away. This recipe was just ok. I left the sauce on the side and boy was I glad I did. The citrus was all I could taste with the sauce, but the pork itself was ok. The 1 package left in the freezer will be enough for us. I wont be making this again.
Combine ingredients in a large Ziploc freezer bag.
Remove as much air as possible.
Label and freeze.
Defrost overnight in the fridge; pork will marinate as it defrosts.
To serve, remove chops from bag and place in a non-stick skillet; reserve marinade.
Cook for 5 minutes, or until brown, repeat for other side.
Add marinade, and reduce heat to medium. Cover and cook for 7 minutes, or until chops are no longer pink in the middle. Transfer pork to a plate and cover. Turn heat to high and whisk for 3-5 minutes until sauce is thick. Spoon over pork. Pork Chops can also be made on the BBQ/Grill if desired.