MA HIKER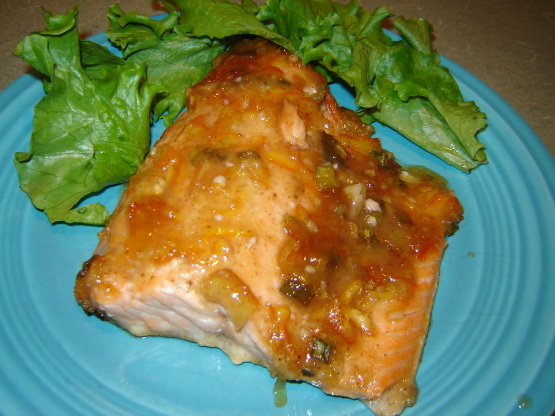 Another salmon recipe with a nice sweet glaze to liven up the mild taste of the fish. (edited May 2007 to reflect comments on cooking time - was originally 4 to 6 min per half inch)

I enjoyed my version of this salmon recipe very much. I omitted the 5 Spice Powder, cayenne, and wine. Instead of the wine, I added chicken broth and extra marmalade.
Preheat oven to 450 degree F.
Rinse fish; pat dry with paper towels.
Measure the thickest portion of the fillet.
Season salmon with salt and pepper. Place in a shallow baking pan; set aside.
In a small bowl stir together marmalade, green onions, garlic, wine, ginger, mustard, cayenne pepper, and five-spice powder. Spoon mixture over salmon.
Bake, uncovered, for 6 to 12 minutes per 1/2-inch thickness or until salmon flakes easily when tested with a fork. (have gotten varied responses on how long this takes, so definitely test it!)
Transfer fish and glaze to a serving dish with a lip.
Sprinkle with almonds.
Serve with steamed asparagus, if desired.