Bergy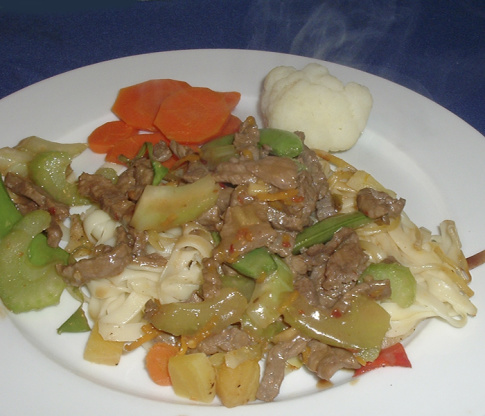 This is a recipe I created after enjoying a similar dish at a Chinese restaurant. The fresh orange flavor is wonderful.It was published in a Sunset Magazine Kitchen Cabinet several years ago.

Top Review by Bergy
I cut the recipe in half - loved the flavor but felt it needed a bit more kick so added 3/4 tsp Chili Flakes (hey this is me and spicy not the recipe's fault). I am sorry I didn't have any sprouts but will next time I make this recipe. Thank-you for a super dinner Quail Trails
Grate peel from one of the oranges.
Squeeze juice from both oranges into a bowl, add grated peel, sherry, soy sauce, and ginger.
Slice meat 1/8th inch thick across the grain, place in marinade.
Let meat marinate at least 5 minutes or cover and chill for 24 hours.
Remove beef from marinade before cooking and set aside.
Mix marinade with corn starch.
Heat wok or heavy frying pat to high heat, add 2 tsp.
oil.
Stir fry meat quickly, in several small batches, until lightly browned.
Add more oil as needed.
Stir fry celery, sprouts and snow peas until peas are bright green, about 1 minute.
Add marinade, stir until boiling, mix in meat and remove from heat and serve.