Citron Presse (French Lemonade)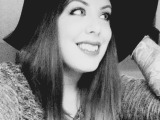 A refreshing non-alcoholic citrus beverage from Laura Calder perfect for hot summer days. Using only lemon juice, water, and sugar, it's a French twist on the classic lemonade drink.--from foodnetwork for ZWT 8.
Directions
To make lemon syrup: put the sugar and lemon in a saucepan with water. Bring to a boil just 5 minutes. Remove from the heat and cool. Store in a glass jar in the refrigerator.
Put 1 tablespoon of lemon syrup in a glass with a few ice cubes and a sprig of mint. Squeeze in the juice of half a lemon. Stir in cold water to taste. Sweeten with more syrup, if you like.
Most Helpful
Very good! I'd much rather make my own lemonade than rely on a package full of who knows what. This was quick and easy, and makes a very refreshing drink. I would change the number of servings on the recipe though; the nutrition information is really misleading. At 1 tablespoon per serving, this makes 32 servings at about 48 calories each... Made for ZWT8

A very nice, easy and refreshing drink. I can see the syrup being used in many alternative beverages. Made for ZWT8, The Wild Bunch.