Cissy's Put-Back Potatoes (Kids Cooking)
lazyme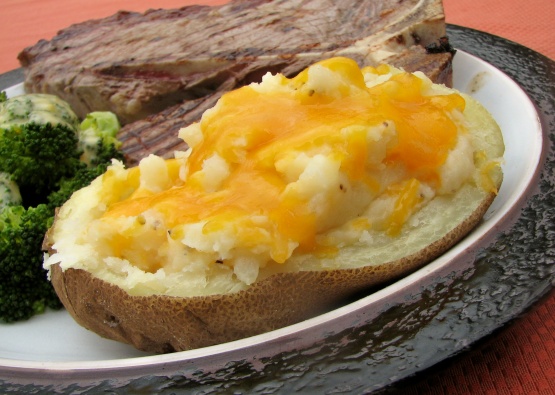 My daughter got a cookbook for Christmas in 1990 when she was 8 years old. The book is called "KidsCooking - A Very Slightly Messy Manual" by Klutz Press. This was our favorite recipe to make together from the book. I used to bake the potatoes before she came home from school and then we would make the rest of them together. I have changed it only to be for 4 potatoes instead of one. We still have the book, but at 25 she still can't cook any better than when she was 8!! :-)

That book is still one of my all-time favorite recipe books. I love put-back potatoes! Easy, and especially delicious with chives and bacon bits added into the mix.
vegetable oil
1⁄2 cup milk
salt and pepper
1 1⁄2 cups cheese, divided

4

tablespoons butter
Preheat oven to 400 degrees. Wash the potatoes well, prick some holes in it with a fork and rub it all over with a little oil. Then place it right on the oven rack (no pan) and bake for 45 to 60 minutes. You can tell when they are done by grabbing one with an oven mitt. (This might be a job for your grown-up assistant.) When they are squeezable, they are done.
Turn the oven down to 350 degrees and take the potatoes out of the oven when they are all done and wait a little bit for them to cool, then cut them in half and scoop the potato out into a bowl. You're going to need it.
Save 1/2 cup of the cheese to sprinkle on top of the potato before it goes in the oven. Mix the rest of the cheese, the milk and the salt and pepper with the potato. Add the butter.
Use a masher or mixer but do it when the potato is still a little warm.
Put your potato-sand cheese mixture back into the potato skin you saved (it won't really fit but that's OK). Put the potatoes in a baking pan, sprinkle the rest of the cheese on top of the potatoes and put back into the oven for 20 minutes at 350 degrees.
The potatoes are done when the cheese melts. Have your adult assistant help with some mitts to take the pan out of the oven.