Circle-Around Sausage Minestrone #Ragu
vcallag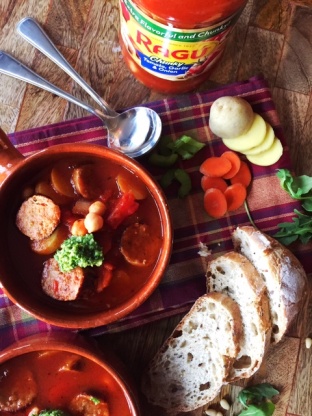 Ragú® Recipe Contest Entry. Whether you are circling around the fire, the table or the kitchen counter this hearty, brisk Italian-style soup is a family pleaser. Rounds of sweet Italian sausage are simmered with rounds of carrots, potatoes and garbanzo beans in a chunky tomato, onion and garlic broth courtesy of Ragu! For an extra punch of flavor, the soup is topped with a zingy dollop of arugula pesto that can be stirred in as you enjoy. (Save the jar to rinse out and store any leftover soup!)

A recipe my family would love and request! Great cooking!
Heat the 2 teaspoons of oil over medium heat in a large deep skillet. Add the sausages to the pan and cook, covered, for 10 minutes; shake the pan occasionally to turn the sausages.
Remove the sausages from the pan and carve into 1/4 inch thick rounds.
Stir the carrots, celery, shallot and potatoes into the pan used to cook the sausage; season lightly with the salt and cook, stirring occasionally, for 2 minutes. Return the sausage to the pan.
Pour in the Ragu sauce, then fill the jar with water and stir that into the pan; bring to a boil, then reduce heat to medium low and simmer, covered, for 12-13 minutes or until potatoes are tender.
Stir in the garbanzo beans and cook for an additional 5 minutes until heated through.
Meanwhile, in the bowl of a small food processor, combine the arugula, pine nuts, salt and garlic powder; pulse to combine well. With the motor of the processor running, slowly add the olive oil until the mixture is combined.
To serve, spoon the soup into 4 serving bowls. Top each with a generous dollop of arugula pesto and serve immediately.