BarbryT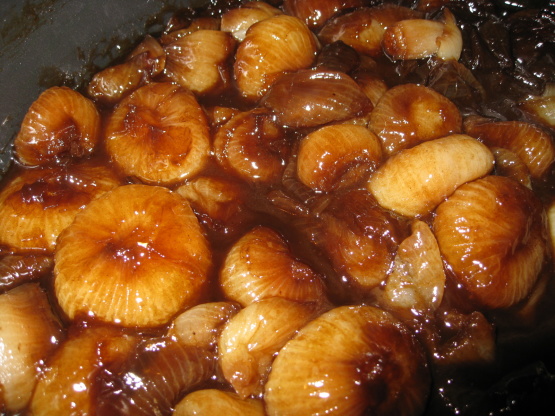 I found this recipe for my Italian FIL. He said he'd never heard of them but his mother DID make "jubilee onions." I figure if calamari = galama, sopressata - soopesage, cavatelli = gavadeel, then cipollini = jubilee. This is a very simple, straightforward recipe as are many Italian recipes.

We love sweet and sour onions. We LOVED these wonderful sweet and sour onions. Everything was spot on. I made them earlier in the day and we ate them with salad and sandwiches (at room temperature) and thought they were perfection. Thanks.
Heat the butter in a pan large enough to hold the onions.
Cook the onions in the butter for a few minutes while stirring.
Sprinkle on the sugar, the vinegar and enough water to barely cover the onions and bring to a boil.
Simmer until the liquid is completely gone, stirring occasionally, 15-20 minutes, watching carefully to avoid scorching. (The onions will become glazed & caramelized).
Sprinkle with lemon juice & serve.