Sageca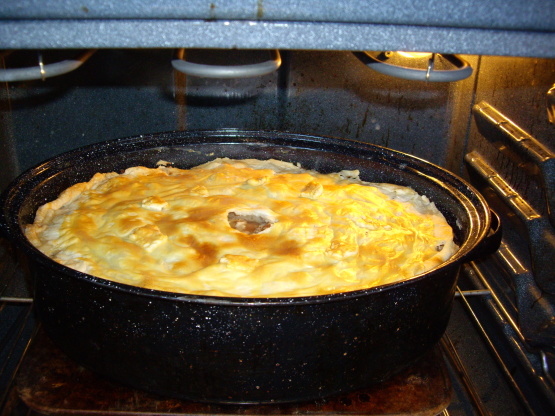 Pronounced 'sea pie' This is a traditional recipe that comes from The Gaspésie area. It is a pot pie that used to be made with wild meats and fowls. Nowadays, we make it with meats you find at the supermarket. A one pot meal so handy when you are serving a group.I found this recipe in a Recettes du Québec and adjusted it for us. My mother used to talk and make something like this; I wish she was around so I could get the exact recipe.
Preheat oven 400°F.
Combine onions and cubed meats; set aside.
Line large casserole or large roast pan with rolled out pasty dough.
Layer ingredients in prepared pan.
Start with 1/3 of the meat, add 1/2 potatoes and continue layering finishing with the meat. Add chicken bouillon until you can see the juice a bit on top.
Cover with pastry; Make a hole on center of pie to let steam escape.
Cover pan with foil.
Bake for 1 hour.
Reduce meat to 250°F and continue cooking another 5 hours.
Keep an eye on the pie to make sure it doesn't dry out. Add more bouillon if necessary.
Tip: Cubed meat and onions should be prepared the day before, covered and refrigerated overnight;this makes it tastier.
Serve with beets, chow chow, home made ketchup, Heinz ketchup and an assortment of pickles, a side bowl of cooked carrots or string beans.
This will be hit!