Cinnamon Zucchini Blondies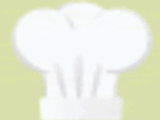 A sweet treat that uses up some of that extra zucchini from the garden. I just coarsely chop the zucchini, but you can shred it if you prefer.
Directions
Pre-heat oven to 350°F.
Grease and flour a 8x8-inch baking pan.
In a large bowl, beat margarine and sugar until fluffy.
Add egg and vanilla; beat well.
Add dry ingredients and stir, just until moistened.
Stir in zucchini and nuts.
Pour into pan and bake 25 minutes.
Cool in pan.
Cut into 9 bars.