AmandaInOz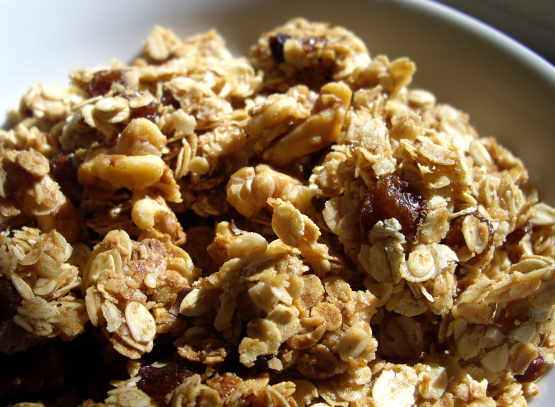 Got this from a nutritionist friend of mine. It has flax seed, and walnuts are good for you - the only nut that has omega 3's. Sometimes I'll also add a cup of sunflower seeds. My daughter loves it and a 8 yo friend was over and tried it. His comment: "This is tasty!" I gave the recipe to his mom and she made it for a school function and it was a hit! I use rolled oats, but you could use quick oats too. I use this on top of fruit and yogurt for a healthy breakfast.

My family loved this recipe. The only way we get to have granola is to make it at home because it isn't available here. Therefore, a good recipe is imperative. That fact that I searched until i found it again is testimony that it is a winner. We are even doubling the recipe this time. Thanks for a great taking granola recipe WI Cheesehead.
Preheat oven to 275°F In big bowl, combine oats, raisins, nuts and flaxseed.
In microwavable bowl, blend together brown sugar, oil, honey and cinnamon.
Cook on high in microwave until mixture starts bubbling. Remove, add vanilla and stir.
Pour over oat mixture and mix well.
Thinly spread on baking sheet(s). Bake for 15 minutes.
Stir, return to oven for addt'l 15 minutes or until oats are toasted.
Cool thoroughly. Store in airtight container.
I keep in fridge if not eaten right away. You could also pack into a pretty container and give as a Christmas gift.