Cinnamon-Walnut Cookies (Vegan)
COOKGIRl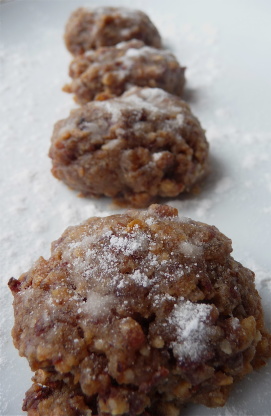 Well, here it's the third week in July and it's raining and we're experiencing unseasonably cool temps. What's a Cookgirl to do stuck inside the house all day? A: Bake cookies! This recipe is from the Delicious Living magazine and elaborated by me to give the cookies a Middle Eastern flavor. Gluten-free, egg and dairy free-easy! The barberries, cardamom and orange blossom water were all my addition.

Seriously, these wee treats are a few mins start to finish. Don't recall ever seeing barberries in this area, in any form. Love that this recipe makes a small amount which is perfect for me. The dates and orange water make them special. Really great little cookies.
1

cup walnut halves, and pieces

5

dates, pitted and roughly chopped (I used medjool)

2

tablespoons barberries (Optional-but it gives the cookies a little bit of color and an interesting contrast of flavors)

1

tablespoon grapeseed oil (Increased from 1 teaspoon. The mixture required more in order to form into a ball.)

1

teaspoon vanilla extract (reduced from 1 1/2 teaspoons)
3⁄4 teaspoon ground cinnamon
1⁄4 teaspoon ground cardamom
1⁄2 teaspoon orange blossom water

1

pinch sea salt
Preheat oven to 350 degrees.
Place walnuts, dates (and barberries if using) in a small food processor and PULSE until coarsely ground.
PULSE in oil, vanilla, cinnamon, cardamom, orange blossom water and salt. Stop the machine from time to time and scrape down the sides of the bowl to help the mixture to blend well and form into a ball properly.
Continue to pulse until mixture begins to form a ball. <<This step took about 3-4 minutes in our food processor.
Line a baking sheet with parchment paper.
Scoop dough (I used a small, oiled cookie scoop), 1 tablespoon at a time, onto prepared baking sheet, forming into balls; flatten slightly.
Bake for 6–8 minutes, until firm.
Cool on baking sheet.