Pneuma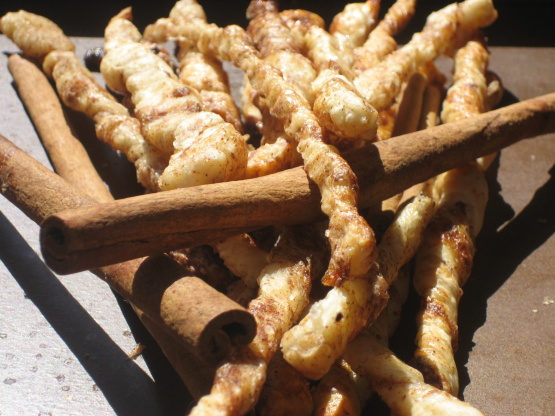 So simple but so tasty. These also make a great gift tied with a ribbon in a cellophane bag, from Australian Good Taste. They don't even need to look that fancy, I had some leftover pastry scraps from making pies and rather than throwing it out as I usually do, I made these, I'll never throw out pastry scraps again!

Top Review by Pneuma
Simple and excellent! We love the taste of sweet cinnamon twigs and indeed they would be wonderful to give as gifts too. I'd just have to practice how to roll them uniformly first. DH ate almost all of it hardly leaving any for me. Thanks for posting this Mandy of Oz!
Preheat oven to 200°C Line a baking tray with non-stick baking paper. Combine sugar and cinnamon in a bowl.
Cut the pastry sheet in half. Brush 1 piece of pastry with egg white and sprinkle with half the sugar mixture. Use a sharp knife to cut the pastry into 1cm-thick strips crossways. Gently twist strips and place on the lined tray. Repeat with the remaining pastry, egg white and sugar mixture.
Bake in oven for 10 minutes or until crisp and golden. Transfer to a wire rack for 30 minutes to cool.