Cinnamon-Topped Banana Bread
Nif_H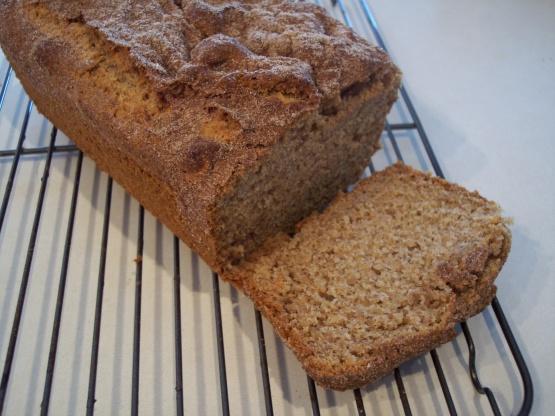 This is a moist, nut-free banana bread with a caramelized cinnamon sugar topping that gets rave reviews every time I make it. The cardamom is optional, but adds a really nice, unique flavor.

This recipe is great! I added some chopped apple to mine. Very moist, and freezes well... If it makes it to the freezer!
Preheat oven to 350 degrees Fahrenheit. Grease and flour 9x5" loaf pan.
Cream butter with sugar in a large bowl until light and fluffy. Add egg and beat well.
Sift together flour, baking soda, baking powder, salt, cinnamon and cardamom in a medium bowl. Mix banana with yogurt and vanilla in small bowl.
Gradually dry and banana mixes to butter mix alternately, stirring till smooth.
Pour batter into pan, then top with sprinkle stuff and bake 45min.-1hr. Remove from pan to wire rack to cool.