PanNan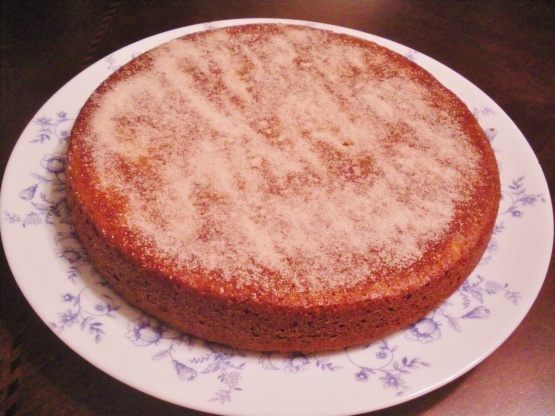 Page 22, The Australian Womans Weekly, Classic Cakes cookbook. Uploaded so I have an online copy.

Delicious! That's it - just one pure word ! Did not change a thing - your directions are spot on and we all enjoyed a slice (well okay we enjoyed 2 slices each) this morning! So moist and the butter & sugar/cinnamon topping - well just heavenly. From 5 people you received 5 stars so you should have 25 stars on this quick and easy recipe! Found and made during ZWT8
Preheat oven to 180dc/160dc fan forced. Grease deep 20cm round cake pan, line base with baking paper.
Beat butter, extract, sugar and egg in small bowl with electric mixer until light and fluffy. stir in sifted flour and milk.
Spread mixutre into pan, bake about 30 minutes. Stand cake in pan 5 minutes before turning, topside up onto wire rack. Brush top of cake with melted buter, sprinkle with combined cinnamon and extra sugar. Serve warm with whipped cream or butter.
Variation - I accidently put 1/2 teaspoon of chocolate essence in before I noticed I'd picked up the wrong bottle. It's really nice.