GaylaJ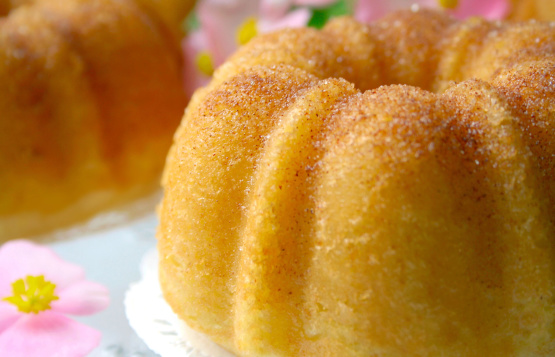 This is an old family favourite. I love it because it's quick and easy to whip up and it can be eaten warm - so you don't even have to wait for it to cool - perfect for unexpected guests! It only makes a fairly small cake - but quite enough for morning or afternoon tea - and it's nicer eaten fresh and warm from the oven. This recipe is from my Bible of cooking, Margaret Fulton's Encyclopedia of Food and Cookery.

Top Review by GaylaJ
Simple and delicious--my kind of recipe! Rather than baking as directed, though, I made four miniature bundt cakes. And what delightful and tasty little cakes they were! :) (I substituted 1 cup all-purpose flour, 1 1/2 teaspoons baking powder, and 1/2 teaspoon salt for the self-rising flour.) Thanks for sharing the recipe, Kooka!
Preheat oven to 180C (fan-forced) or 190C standard.
Grease an 18cm (7") shallow cake tin OR a similar sized ring (bundt) tin - I prefer the latter.
Add a very small pinch of salt to the egg white and beat until stiff peaks form.
Add egg yolk, then gradually beat in the sugar.
Mix together the milk and vanilla and add a little at a time, beating continuously.
Using a wooden spoon (or beaters on low speed) gently stir in the flour and the melted butter.
Pour batter into prepared cake tin.
Place on the centre shelf of the oven and bake for 20-25 minutes or until cooked.
Remove from oven and invert cake onto a plate.
Using a pastry brush, gently paint all over with melted butter.
Mix together sugar and cinnamon and sprinkle over cake.
Serve warm or cold.