Annacia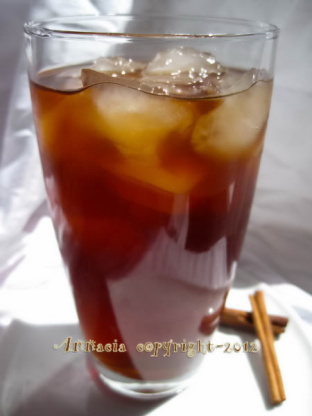 Found on about.com and am adding for ZWT6: North African/Middle Eastern. Goes well with any apple dessert.

Made on Mikekey's recommendation. It's July and I made a pitcher for iced tea. Being a cinnamaholic I used 8 cinnamon sticks (the wee 3 inch ones) and 6 Earl Grey tea bags. Oh Great and Glorious Cinnamon Goddess is this wonderful, I'm so glad that I buy cinnamon sticks by the 1.13 KG box!! :D
Combine cinnamon sticks and water in a saucepan or teapot. Bring to a boil and simmer 15 minutes.
Return to a boil and pour into cups with a teabag in each cup.
You may add sugar and milk to taste. Do not add lemon or honey.