Cinnamon Swirl Quick Bread
ChrissyVas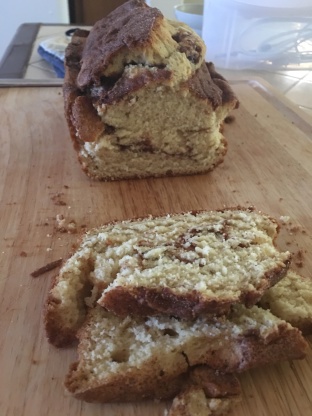 This rich quick bread is a favorite with my family. I often give my husband a few slices to take with him on his commute to work, along with a tall travel mug of coffee.

Top Review by MollyM
Really good! Doubled the recipe to make two loaves, also added 2 tsp of vanilla to the batter and reduced the sugar by 1/3 of a cup per loaf. After reading other reviews, made sure to grease the bottom of the pans really well and did not have any problems with sticking. Will definately make again!
Preheat oven to 350°F.
In a large mixing bowl, beat together butter, 1 cup sugar, and egg.
Combine the flour, baking powder, baking soda, and salt.
Add the flour mixture to the egg mixture alternately with the buttermilk.
In a small bowl, combine the cinnamon and remaining 1/3 cup sugar.
Pour a third of the batter into a greased 8X4X2-inch loaf pan.
Sprinkle a third of the cinnamon sugar on top of batter.
Repeat layers twice.
Bake for 45-50 minutes, until a toothpick inserted near the center comes out clean.
Cool in pan for 10 minutes.
Remove from pan to a wire rack to cool completely.