Cinnamon Swirl Quick Bread
Katzen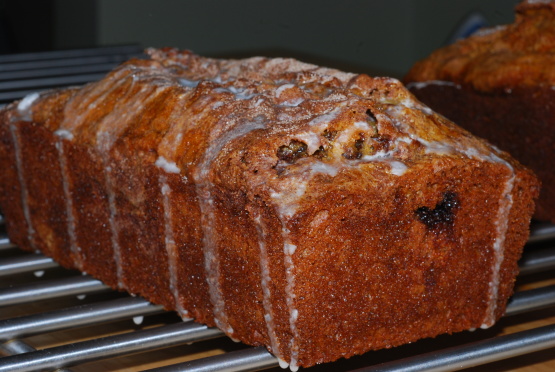 The flavor and texture of this bread is so delicious! The glaze adds a nice touch.

I made this today and found that the cooking time was less than needed. I actually need 70 min for it to be done on the inside but it was slightly burnt on the edges. The icing just melted into the loaf but that didn't matter. Overall a wonderful tasting recipe! Bringing it to work tomorrow!
Combine 1/2 cup sugar and cinnamon; set aside.
Combine flour, baking soda, salt, and remaining sugar.
Combine buttermilk, egg and oil in separate bowl; stir into dry ingredients just until combined.
Grease a 9x5 inch loaf pan. Pour half of the batter into pan; sprinkle with half of the cinnamon sugar mixture.
Carefully spread with remaining batter and sprinkle with remaining cinnamon sugar; swirl knife through batter.
Bake at 350 for 40-50 minutes or until a toothpick inserted near the ceter comes out clean.
Cool in pan 10 minutes before removing to wire rack to cool completely.
Combine glaze ingredients and drizzle over bread.