Cinnamon Swirl Mini Muffins
Nimz1466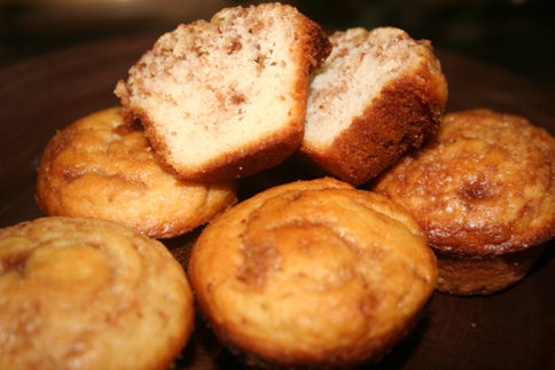 This recipe was developed for our canteen as a kids pleaser and a recipe that we could give the kids as it is low in fat and sugar due to the serving size! It is yummy! This recipe is a variation from a cookery book called 'Muffins Galore' (by Catherine Atkinson), and was also posted by katybean.

These were very tasty with great texture to them. I had some problem with the conversion measurements because I had a lot of the Cinnamon sugar left over. Very easy to make, however I couldn't get mine to swirl like I would have liked it. Thanks for sharing. Made for PAC Spring 2010
Preheat fanforced oven to 180 Celcius.
Grease a 12 mini muffin tin.
For the cinnamon sugar, mix together the cinnamon and the light brown sugar in a small bowl and set aside.
For the mini muffins, mix the flour, baking powder, salt and sugar in a large bowl.
In a separate bowl or jug, mix together the egg, milk and melted butter.
Add the wet ingredients all at once to the dry ingredients and mix briefly until just combined.
Put a 1/2 teaspoon of the batter into each prepared mini muffin cup. Sprinkle each muffin with a 1/4 tsp of cinnamon sugar, then spoon some more batter and cinnamon sugar into the mini muffin cup.
Finish with a layer of batter, dividing it evenly. Using a fine skewer, swirl the mixture in each mini muffin cup to achieve the marbled effect.
Bake in the oven for 12-15 mins, or until risen and golden. Cool in the tin for 10 minutes (the sugar mixture will remain really hot, so don't be tempted to try them sooner), then turn out onto a wire rack.
Serve warm or cold. These can be frozen too!